Let's Get Moving Melton Champions
Let's Get Moving Melton Champions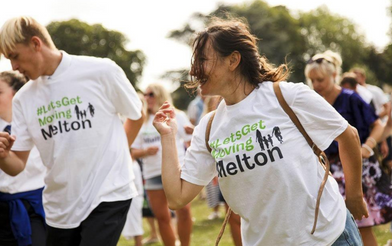 Melton Sports and Health Alliance, led by Melton Borough Council, is launching "Let's Get Moving Melton Champions" to celebrate contributions to physical activity and health within the community.
Residents are being encouraged to recognise an individual, group or team that deserve to be celebrated for their contribution, by nominating them as a Let's Get Moving Melton Champion.
This year the nominees should fit into one of four eligibility criteria to be considered, they should either;
motivate, inspire, and make it possible for us to keep physically active and healthy,
have taken steps towards a healthy lifestyle by becoming more physically active to improve their mental and physical health and well-being, manage long term medical conditions or to prevent ill health,
be a positive role model to encourage more people to start, stay and succeed in physical activity or,
provide an outstanding contribution to physical activity, health and well-being in the Borough of Melton over a number of years.
Councillor Malise Graham, Portfolio Holder for Housing and Communities, said: "The Let's Get Moving Melton Champions campaign has been set up to celebrate individuals, groups and clubs that have been instrumental in supporting, motivating, and inspiring residents from across the Melton district to achieve or maintain their physical and mental wellbeing or made a change to lead a healthier and more active lifestyle.
"We encourage as many people as possible to take some time out to nominate their Champions, allowing us to celebrate the great work and community spirit within the Borough of Melton."
The nominees that fit the criteria will be showcased on the Melton Sport & Health Alliance Social Media pages after the closing date and will be invited to our Let's Get Moving Melton event in the summer, date to be confirmed, as an ambassador.
To nominate someone who has been motivating or inspiring, please complete the online nomination form, available on the Melton Sport and Health Alliance website, detailing how your chosen nominee has inspired you: https://www.meltonsportandhealth.org.uk/lets-get-moving-melton-champions


Nominations open Monday 16 January and Close on Sunday 5 February 2023.
Follow Melton Sports and Health Alliance on social media for the latest updates:
Twitter: @MeltonSportHA
Facebook: Melton Sport and Health Alliance
Instagram: meltonsportha
~ends~
For more information please contact:
Name: David Hayton-Hill/Wilson Iron
Melton Borough Council
Telephone: 07896 856258/07909 008193
Email: Communications@melton.gov.uk


16 January 2023
Did you find what you were looking for on this page?