Solar panels available in new scheme
Fully funded solar panels available in a new council scheme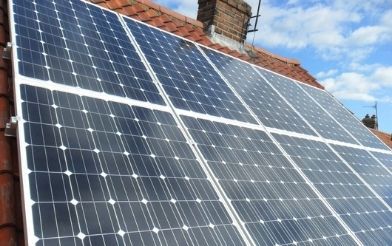 Melton Borough Council has secured government funding to upgrade eligible homes with solar panels to help householders lower their energy bills and reduce their household's carbon footprint.
The Council are enabling a project to provide private households (owned and privately rented) with free solar photovoltaic panels that will provide a constant flow of renewable energy all year round. Solar panels generate electricity using energy from the sun, even on days when there is no direct sunlight, and work best on southern facing roofs.
The scheme will help households with an income of under £30,000 or less and those who receive means tested benefits to generate their own electricity from a green renewable source.
Properties will need to have a low energy performance certificate (EPC) rating of E, F or G (which will be checked as part of the process) and be suitable for installation of solar panels.
A total of 40 properties will receive upgrades in the first round of funding with both homeowners and private renters able to benefit. However, landlords will be required to contribute one third of the costs. There will be a second phase to this project starting in 2022. This may include additional energy saving measures, so we are also seeking eligible applicants for this stage.
Over the next few weeks, the council will be contacting some residents who live in properties with the lowest energy efficiency ratings in the borough.
We will be working in partnership with Sycamore Energy Assessors Ltd who will be assessing potentially eligible properties and visiting householders in the area to advise them about the scheme.
The council will also be working with energy experts YES Energy Solutions, who will assess the householders' eligibility and support those who qualify for the scheme through the process.
Alison Freer, Portfolio Holder for Climate, Access and Engagement said: "We are delighted to have secured £386,950 of government funding in this round of funding so that eligible householders will be able to install solar photovoltaic systems to generate their own green electricity. Being able to afford household energy bills will have long-term benefits to residents' finances and wellbeing, as well as delivering key benefits for the environment. One of the Council's six key priorities in our Corporate Strategy is to protect our climate and enhance our natural environment, and this funding enables us to take valuable steps to making Melton a cleaner, greener place to live."
The scheme will run up to March 2022. If you think you may be eligible please call YES Energy Solutions directly on 03309 126199.
~Ends~
For more information please contact:
Regulatory Services Manager
Melton Borough Council
environmentalhealth@melton.gov.uk
Notes to editors
Image
Solar photovoltaic panels fixed to a roof (credit: YES Energy Solutions) 
Local Authority Delivery
The Government ring-fenced £500m in August 2020 for local authorities in England as part of the Green Homes Grant.
Councils can apply for funding to form energy efficiency retrofit schemes.
The Melton Borough Council scheme is open to homeowners and private renters, however landlords must contribute one third of the costs.
The scheme helps residents living in homes with poor energy efficiency ratings of EPC band D or below who also have a low income of under £30,000 or receive means tested benefits.
YES Energy Solutions
YES Energy Solutions is the trading name of Yorkshire Energy Services CIC – a national Community Interest Company operating in the energy efficiency sector. With no shareholders to satisfy, the company invests profits into actions that achieve its social mission – to reduce CO2 and alleviate fuel poverty in the UK.
The company was originally established in 2000 by Kirklees Council to manage multiple affordable warmth programmes. YES Energy Solutions is now an independent organisation working nationally with a broad range of Councils, Housing Associations, Energy Companies and Installers to deliver targeted energy saving schemes that cut customer fuel bills, improve health and wellbeing and regenerate whole communities. They have managed some of the largest Council-backed fuel poverty alleviation schemes in the country.
In the last financial year YES Energy Solutions transformed the energy efficiency of over 2,902 homes, cutting customer fuel bills by £36m over the lifetime of the improvements installed.
For more information visit: www.yesenergysolutions.co.uk
13 September 2021
Did you find what you were looking for on this page?