£7,000 of Jubilee Grants allocated to community projects
£7,000 of Jubilee Grants allocated to community projects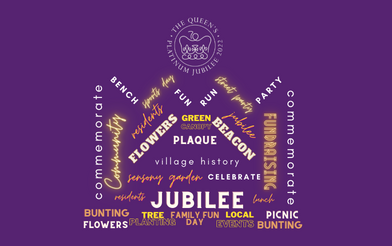 Melton Borough Council have paid £7,000 to 20 different community groups and projects from across the Borough to celebrate the Queen's Platinum Jubilee.
2022 marks the platinum anniversary of the Queens accession to the throne and her 70 years of service.  Building on the success of the Council's existing Community Grants Scheme, Melton Borough Council's Jubilee grants scheme was created to enable local community groups across the Borough of Melton to apply for funding earlier in the year to support local jubilee projects and activities.  The pot of funding aims to help people in the borough celebrate and commemorate the historic year.  Some of the events and projects being funded from the Jubilee fund include Village Beacon lightings, Community street parties, Family Fun days and tree planting as part of the Queen's Green Canopy project.
Cllr Alison Freer, Portfolio Holder for Climate, Access and Environment said "We know what a difference our community grants make, and so we were delighted to be able to create a small community grants scheme for the Queen's Platinum Jubilee.  As Portfolio Holder and grant panel member, it was a privilege to learn about the projects planned across the borough. The range of applications and the variety of activities that our communities are undertaking in celebration of our Queen is amazing. This wasn't a large amount of money but I am so pleased that is being shared amongst some amazing projects and I am very proud that Melton Borough Council has played a part in supporting our communities. Happy Jubilee Celebrations to all successful applicants
A wide range of events will be taking place between 2nd and 5th June 2022. People looking for local events over the extended Jubilee Weekend should go the Discover Melton website for a full range of activities and ideas for the whole family. 
16 May 2022
Did you find what you were looking for on this page?