Council serve injunction to tackle anti-social behaviour
Council serve injunction to tackle anti-social behaviour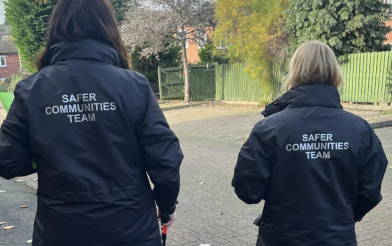 Melton Borough Council's Safer Communities Team have served an Injunction after local residents raised concerns of significant noise issues and anti-social behaviour occurring at a property on Robin Crescent, Melton Mowbray.
The Injunction, which prohibits the individual from playing amplified music that can be heard outside the property, was granted at Leicester County Court on Wednesday 5th July under the Anti-Social Behaviour Crime and Policing Act 2014 and is in place for 12 months.
Officers from Melton Borough Council took action to secure the Injunction after the individual repeatedly ignored the advice, warnings, and support the Safer Communities Team provided by regularly playing excessively loud and vibrating music and continuing to allow visitors to cause nuisance and annoyance to residents nearby.
Cllr Pat Cumbers, Portfolio Holder for Customers, Communities and Neighbourhoods, said: "We are committed to making our borough a safe and great place to live and this type of behaviour is unacceptable and will not be tolerated.
"Even with the continued support of our Safer Communities Team the level of anti-social behaviour in this case continued to be excessive and negatively impacted those living in the area, meaning a stricter course of action needed to be taken.
"We take matters like this very seriously and we will continue to work with those in our community to tackle the issues that are affecting them and take the necessary steps to prevent anti-social behaviour."
Anti-social behaviour can be reported online at www.melton.gov.uk/asb or alternatively by calling 01664 502502.
~ends~
For more information please contact:
Email: Communications@melton.gov.uk
11 July 2023
Did you find what you were looking for on this page?