Council sponsors local business and community awards
Council sponsors local business and community awards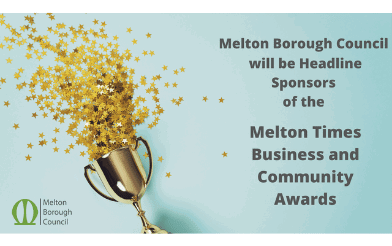 Melton Borough Council is proud to announce that it is this year's Melton Times Business and Community Awards Headline Sponsor.
After such a turbulent and unsettling year, the council takes great pleasure in headlining an event which celebrates hard work, collaboration and a determination to succeed, which businesses have had to demonstrate over the last 16 months.
As well as being headline sponsors, the council will be short-listing two of the award categories. One of which is the 'COVID Business Hero Award', which aims to recognise and celebrate businesses that have been able to adapt and, in some cases, diversify their products and services, to ensure their business has been able to continue to operate and grow during this time.
In addition, the council will also short-list and judge the 'Leisure & Tourism Award', which celebrates those businesses in the sector that provide quality services, experiences and improve the visibility of the borough as a destination of choice for visitors. As Melton Borough Council have been working hard to create a strong, clear brand and narrative for the borough as a high quality tourism, leisure and business destination, through the Discover Melton website, it seems fitting to judge this award.
Deputy Leader & Portfolio Holder for Growth and Prosperity, Councillor Leigh Higgins, said: "Melton Borough Council recognises that the past year has been like no other we have witnessed in recent times. It is a testament to Melton's entrepreneurial and community spirit that has enabled us to thrive at a time of social and economic difficulty.
We are pleased to be able to sponsor this event which recognises all the positive contributions to our local community. We hope that many local businesses and members of the community take the opportunity to submit entries for the awards and we wish those that do the best of luck".
The award evening is due to take place on Friday 17 September 2021. The event will celebrate many businesses and people in our community for all they have done over the past year, including award categories in Best New Business/Start-Up of the Year, After Dark Award, Business of the Year Award, Child of Courage Award, Inspirational Young Person Award, Contribution to the Community Award and Health Hero Award.
For more information about how to submit an entry email Linda Pritchard  Linda.Pritchard@jpimedia.co.uk
~ends~
For more information please contact:
Name:  Economic Development Officer
Melton Borough Council
Telephone: 01664 502496
Email: business@melton.gov.uk
15 July 2021
Did you find what you were looking for on this page?