County Council defer decision on the southern relief road
County Council defer decision on the southern relief road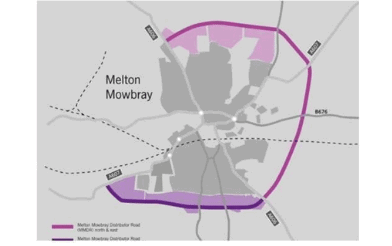 Cllr Joe Orson, Leader of Melton Borough Council welcomed the news that Leicestershire County Council have deferred their decision regarding the Housing Infrastructure Fund grant.
"I am absolutely delighted the County Council has listened to everyone who has spoken up in the last week and I want to thank my colleagues at County Hall for recognising they needed to rethink their position. Rejecting the HIF grant would have been so counterproductive. It would have killed the road and been so damaging for Melton, and we simply cannot allow that to happen.
I want to say a huge thank you to everyone who signed the petition. With nearly 2,500 signatures it shows how important this is to the people of Melton and what can happen when communities unite to bring about change. I am also extremely grateful for the support of our MP Alicia Kearns who has worked tirelessly on this issue, alongside the support and assistance received from MBC Council officers and members, my fellow District Council Leaders and the MHCLG Secretary of State.
There is still much to do and I welcome the County Council's commitment to restart discussions with MHCLG to find a way that the grant can be accepted and the road built. We will continue to support the County Council and collectively we must now make this happen!"
22 June 2021
Did you find what you were looking for on this page?