Flying the Flag for Armed Forces Day
Flying the Flag for Armed Forces Day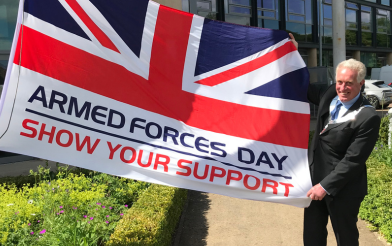 A flag flying ceremony to support Britain's National Armed Forces Day has been arranged by Melton Borough Council.
The event will take place outside the front of the Council Offices, Parkside on Burton Street on Monday 19 June 2023.  It will start at 10.50am and members of the public are invited to come along and show their support for the men and women who make up the Armed Forces community from currently serving troops to service families, veterans and cadets.
Military organisations including Royal British Legion, local branches of the Armed Forces and the Defence Animal Training Regiment will be represented on the day with WO1 (RSM) Matthew Eade taking the lead in the parade.
The Mayor, Cllr Alan Hewson will host the ceremony, followed by a short service and blessing of the flag by Reverend Ruth Simpson. The flag will be raised at 11am by Sgt Whyte MBE to honour the British Armed Forces, past, present, and future.
~ends~
13 June 2023
Did you find what you were looking for on this page?