Here For Melton: Community Support and Information Day for Residents
Here For Melton: Community Support and Information Day for Residents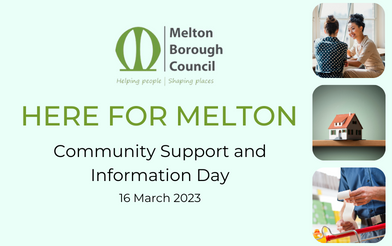 Hosted by Melton Borough Council, residents are encouraged to attend a drop in event at the Parkside Council Offices on Thursday 16th March 2023.
Council teams and partners will be available between 2pm and 7pm to provide advice, support and assistance to residents at a community support and information day. Organisations in attendance will be able to offer a wide variety of information and support to residents ranging from becoming more energy efficient, recycling, budgeting, fire safety, accessing support with the rising costs of living and physical and mental health support. Key teams will also be on hand to answer questions and provide any immediate support needed.
Admission is free of charge and includes a complimentary ticket for a raffle, with prizes from local organisations and businesses to be won. There will also be several activities for both adults and children to get involved with along with items to take away and refreshments available throughout the day.
Cllr Malise Graham, Portfolio holder for People and Communities said:
"We are so pleased to be able to host this event, with the support of our partners. If you would like more information or help on those things that affect you, whether it be the cost of living or any other issues that we or our partners can help with, please do come along on Thursday 16th March"
The Council is also looking to host similar events in rural areas later this year, to ensure that services and support are accessible across the Borough.
~ends~
For more information please contact:
Name:  Ryan Ebdale- rebdale@melton.gov.uk
28 February 2023
Did you find what you were looking for on this page?