Let's Get Moving Melton Day is returning
Let's Get Moving Melton Day is returning for another fun filled day of activities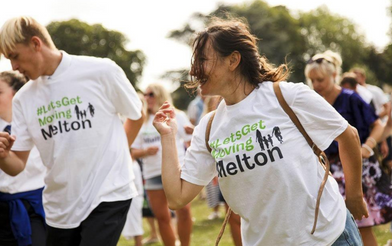 Melton Sport and Health Alliance, which is led by Melton Borough Council, are bringing back Let's Get Moving Melton Day on Sunday 9 July 2023 at Wilton Park 10am-4pm.
Following the successful event last year which saw over a 1000 in attendance to encouraging residents to "move more, more often", Let's Get Moving Melton Day is free to attend and will allow residents to take part in various physical activity by providing a range of beginner sessions delivered by local community instructors, coaches, community groups and sports clubs.
In addition to the events being held at Wilton Park, a wide variety of facilities have committed to open their doors to support the event including: Waterfield Leisure Centre, Melton Sports Village, Melton Country Park, Age UK Leicestershire & Rutland, and many more.
Cllr Pat Cumbers, Portfolio Holder for People and Communities said: "Let's Get Moving Melton day is the perfect opportunity for individuals and families to come together to 'move more, more often' and have fun trying out what Melton has to offer when it comes to physical activity, health and wellbeing.
"I hope everyone who is interested in starting to be more active or curious about the activities available attends the event on Sunday 9 July and has fun at Let's Get Moving Melton Day. You don't need to be sporty to get involved, from going on a walk in one of our advertised open spaces to warming up with Zumba, there really is something for everyone."
If any instructors, coaches, community groups or sports clubs would like to deliver a taster session to residents or have a stand at the event, there is still some availability. Contact the Melton Health and Sports Alliance for more information at: healthyactivecommunities@melton.gov.uk
In the build up to Let's Get Moving Melton Day, be sure to follow the #letsgetmovingmelton hashtag on social media, which will be promoting local green/open spaces for residents to visit and be active alongside showcasing videos of the Let's Get Moving Melton ambassadors being active and why being active is so important to them.
For the latest updates of the event, a timetable of what activities will be available and to book on to an activity, please visit the Melton Sports and Health Alliance website and social media:
https://www.meltonsportandhealth.org.uk/letsgetmovingmelton
@MeltonSportHA (Facebook, Twitter and Instagram)
~ends~
For more information please contact:
Melton Sport and Health Alliance 
Email: sportsandhealth@melton.gov.uk 
15 June 2023
Did you find what you were looking for on this page?