Melton Active Champions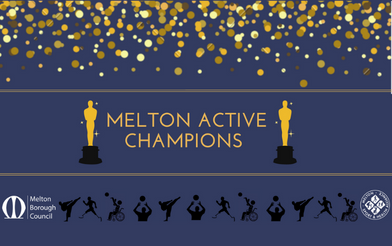 Following last year's success, Melton Sports and Health Alliance, led by Melton Borough Council, is launching Melton Active Champions to celebrate community contribution to physical activity and health in 2021.
Melton residents are encouraged to nominate a group, organisation or individual that deserves recognition for their outstanding contribution 'to inspire more people, to be more active, more often' in the borough, helping residents to become more physically active and healthy over the past year.
Cllr Malise Graham, Deputy Leader and Portfolio Holder for People and Communities said: "Melton Active Champions is an opportunity to showcase and celebrate the hard work, fun and commitment that individuals, schools and various groups have contributed towards encouraging physically active and healthy Melton residents, through an extremely challenging year.
Physical activity helps people to live and age well. It is paramount in combatting illness, pro-longing life and having good mental health. Throughout 2021, various individuals and organisations have been vital in helping Melton residents stay fit, healthy and happy in a year that naturally has made all three of these things rather difficult.
Please use this opportunity to nominate your Melton Active Champion so that we can highlight and celebrate their achievements and community spirit."
To nominate someone who has been motivating or inspiring, please complete the online nomination form, available on the Melton Sport and Health Alliance website, detailing how your chosen nominee has inspired you: www.meltonsportandhealth.org.uk/melton-active-champions.
Nominations are open from Thursday 6 January and close on Monday 31 January.
The nominees will be published on the Melton Sport and Health Alliance social media pages after the closing date. Three nominees will be selected at random to receive a £20 Melton Sports Voucher, this will be announced on Monday 28 February via a Facebook live event on the Melton Sport and Health Alliance Facebook page.
Follow Melton Sports and Health Alliance on social media for the latest updates:
Facebook: https://www.facebook.com/MeltonSportHA
Twitter: @MeltonSportHA  Instagram @MeltonSportHA
~ends~
For more information please contact:
06 January 2022
Did you find what you were looking for on this page?