Work begins to install updated CCTV system in town centre.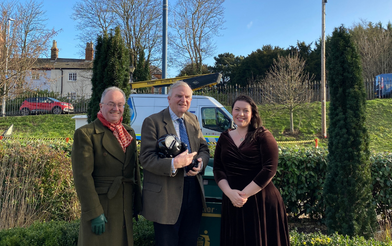 On Monday 30 January, work began to replace the CCTV in the town with an updated and modernised system.
Ten modern CCTV cameras will be installed in key locations throughout Melton Mowbray, over the coming weeks.
The cameras will continuously capture high quality footage at their locations, which will be monitored 24 hours a day through a collaboration with Harborough District Council, enabling the council, police and partners to utilise the surveillance technology more effectively to help keep our communities safe and to help prevent and detect crime
Cllr Graham, Rupert Matthews, the Police and Crime Commissioner for Leicester, Leicestershire and Rutland, and Alicia Kearns, MP for Rutland and Melton, met with contractors ACE, who are providing the cameras, to see the installation begin.
Cllr Malise Graham, Portfolio Holder for People and Communities said: "It is fantastic we have been able to work with our contractors to get these modern CCTV cameras with up to date technology installed so quickly. Community Safety is a priority of ours and through updating the technology and improving the monitoring that is in place, we can offer increased assurance to our community and businesses.

"We hope the installation process does not cause too much disruption to our residents and business owners and appreciate everyone's patience whilst our contractors carry out these essential works throughout the town."
The installation is anticipated to be completed by Friday 10 February, after which the team will undertake checks in the control room to ensure the appropriate links have been established with the cameras and that they are fully operational by the end of March. Further information and updates will be shared as the project progresses.  
Rupert Matthews, Police and Crime Commissioner for Leicester, Leicestershire and Rutland said:
"I am delighted to have been able to help fund Melton's new CCTV cameras. These new cameras are the culmination of a lot of hard work from Melton Borough Council and the Safer Melton Partnership, for which I am thankful. Their efforts will ensure that Melton Police will have access to better resources for preventing, responding and solving crime issues across Melton and helping residents feel safer, all critical planks of my police and crime plan.
"The rapid installation of these new cameras illustrates just how effective working with our partners can be when it comes to fighting crime and making life for those who live and work in Melton Borough safer."
Alicia Kearns, MP for Rutland and Melton said: "I'm delighted we've secured a new high-tech CCTV system for Melton - it's a real priority for our town and will mean that we can effectively catch and prosecute those who commit crimes. 
"The current system dates back to the 1990s, so it was in need of an upgrade. The new system will provide much greater support to our wonderful local police team as they keep us safe, and ensure the safety of our local businesses. I know that the dark nights make many members of our community feel increasingly vulnerable, so I hope that this added layer of security in our town provides everyone with some reassurance this Winter."
~ends~
For more information please contact:
30 January 2023
Did you find what you were looking for on this page?