Melton prepares for the Jubilee weekend
Melton prepares for the Jubilee weekend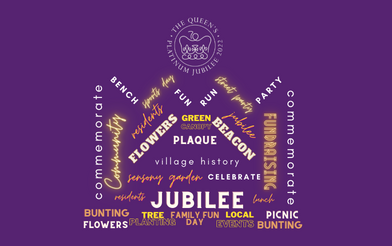 A range of organisations and businesses from across the borough, have come together to ensure the extended Jubilee Bank Holiday weekend has an event packed programme in Melton.
A partnership group of Melton BID, Melton Mowbray Town Estate, St Mary's Church, Rotary Club, King Street Traders and Melton Borough Council have come together with town and borough representatives, organisations and community groups - including Melton in Bloom, Melton Brooksby College, Melton Carnegie Museum, the Stockyard, Belvoir Castle, The Defence Animal Training Regiment and others - to host and facilitate multiple events for all ages throughout the weekend and ensure the Town Centre is suitably decorated for the Jubilee. Whilst local communities, groups, organisations and businesses are encouraged to plan further events and decorate their village, street, buildings or homes with bunting and flags to join in with the celebrations for The Queen's Platinum Jubilee in Melton.
Throughout the week, Melton Carnegie Museum will be holding Jubilee half term activities, where visitors can make their own souvenir mug as well as enjoying the latest exhibition "Melton's Royal Connections". While Play Close will host a Fun Fair for those looking for a thrill over the half term and Jubilee weekend.
On Thursday 2 June, Buckingham Palace will hold the Trooping of the Colour to mark The Queen's official birthday. Those celebrating in Melton for the long weekend can watch these event live on the BBC. In the evening, Jubilee celebrations will continue locally with the lighting of the Beacon at the Defence Animal Training Regiment on Thursday 2 June from 8.30pm. Members of the public are invited to join and watch the event take place in the fields by Remount Barracks.
On the Friday afternoon, The Mayor, Alan Hewson, will host the 'Concert in the Park' at the Band Stand in Play Close park between 12pm-4pm, which features a specially commissioned piece of music with lyrics provided by local primary school children. 
After this event, those who have built up an appetite throughout the day can visit the Street Food Market and/or the Vintage and Classic Car event in the Town Centre, which will start and 4pm and continue throughout the evening.
Later in the evening, Melton Rotary clubs will be running a party in St. Mary's Church from 7pm-11pm.
During the weekend residents and visitors can enjoy further activities by visiting the Queen's Jubilee Jousting Tournament at Belvoir Castle, the Jubilee Jamboree at the Stockyard and St Mary's Church indoor street party, which is being held from 11am-2pm on Saturday. Visitors to the Queen's Jubilee Jousting Tournament at Belvoir Castle will be able to enjoy a street party, stalls, jousting, performances, musicians, and special children's entertainment. Whereas those heading to the Stockyard can experience the Makers Market, live music, a variety of activities, refreshments including a Pimms and Prosecco bar and a special pop-up Dog show on Sunday.
Her Majesty the Queen's representative in Leicestershire, Lord Lieutenant Mr Mike Kapur OBE, will be in Melton on Saturday 4 June 2022 planting the Town's Platinum Jubilee Tree in Egerton Park in collaboration with Melton Mowbray Town Estate.
Mr Kapur will unveil a commemorative stone to mark the occasion and view nearly 700 trees recently planted by Melton Mowbray Town Estate as part of the Queen's Green Canopy to support a sustainable environment.
Afterwards he will tour other parks, walk along the Kings' Highway and have lunch with local young families in St Mary's Church. Before ending his trip, Mr Kapur will visit Melton's famous Town Market and pause for a moment's reflection in the Memorial Gardens.
Chair of the Town Estate Feoffees, Mr John Southerington said "We are absolutely delighted to announce that Her Majesty's Lord Lieutenant will unveil our Jubilee Tree and the 700 recently planted trees that will contribute to the Queen's Green Canopy."
To round off the extended weekend there will be a big finale event, the Jubilee Vintage & Craft Fair, in the Town Centre. Visitors can head down to enjoy Craft Stalls, Vintage, Steam Punk, Music, Dancing, Classic Cars, Jeeps and Bikes as well as local shops, cafes and restaurants.
Cllr Rob Bindloss, Portfolio Holder for Growth and Propensity said "Her Majesty the Queen has had a remarkable 70 years serving our country and the commonwealth. The Platinum Jubilee allows us to come together as a community to celebrate her tremendous achievement as the longest serving British Monarch.
"Local organisations and businesses have planned incredible events which I look forward to experiencing and I am pleased we were able to support some of these through our Platinum Jubilee small grants scheme. The Jubilee weekend allows us all to provide a boost to our local economy whilst showing our respect and admiration to The Queen. I encourage everyone to get involved by visiting the events on offer as well as enjoying their own local events and street parties."
Jubilee Group Coordinator Matthew O'Callaghan said, "I'm delighted that so many groups in the town and borough have got together to create an extensive and exciting programme not only for this significant Jubilee but also through, the 'Royal Melton' story, a legacy for the future development of tourism in the borough."
Shelagh Core, Manager of the Melton BID said "It is wonderful to have seen so many community groups and stakeholders come together to create a memorable weekend of events, commemorative projects, trails and competitions in the town to celebrate the Queen's Platinum Jubilee weekend".
Full details of the celebrations mentioned are available on www.discovermelton.com. To add a local celebration event to the Discover Melton website email discover@melton.gov.uk with the details.
~ends~
For more information: communications@melton.gov.uk 
24 May 2022
Did you find what you were looking for on this page?