New website scores top in accessibility rankings
Melton Borough Council's new website scores top in accessibility rankings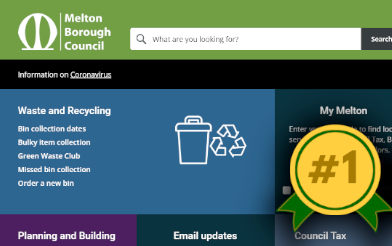 Melton Borough Council's new website, produced in collaboration with Blaby District Council, has been named one of the three most accessible council websites in the UK.
The website now proudly sits in first place on the Silktide leaderboard, which tests websites for their accessibility compliance. Melton's redesigned website comes as all local government websites are required to be compliant with Web Content Accessibility Guidelines (WCAG).
Cllr Alison Freer, Portfolio Holder for Climate Access and Engagement said: "I am absolutely thrilled that we are now in joint first place across the whole of the UK alongside Blaby District Council for our website accessibility.
"The teams from both councils have worked incredibly hard in its creation and launch to achieve this and have demonstrated that joint working with fellow councils is not only financially beneficial but it also gives an opportunity for skill sharing and development for officers.
"Making our website 100% accessible so that more people can easily use and access our services and support is one of our corporate priorities of improving processes to ensure the best possible customer experience, and this new website and its fully accessible content is an important step in achieving this."
Blaby Councillor Ben Taylor, Portfolio Holder for Planning Delivery, Enforcement and Corporate Transformation, said: "We are absolutely delighted to have played such a key role in delivering Melton Borough Council's new website. It's been great to see this partnership working to bring great results for residents.
"With significant experience in managing a nationally-recognised local government website and a bigger focus on making websites accessible, we were pleased to work with Melton to get them to this point.
"We congratulate them for achieving first place in the Silktide rankings and joining us at the top of the table!"
Graeme Wilson, Headland Director said "The team at Headland thoroughly enjoyed the experience of working closely with the Melton Borough Council project team to deploy the new council website. We trust our local authority website platform will provide the borough residents with a state-of-the-art digital service well into the future."
Under the WCAG guidelines, all browser-based technologies are required to be accessible for everyone, including users with impairments. Work on the new website has seen accessibility compliance rise from 71% to 100% in the latest Silktide rankings.
Collaboration between Melton and Blaby District started earlier this year. Alongside website developers Headland, the two councils worked together to complete the exciting project, which included the technical work, testing, quality assurance and training.
The redesigned site was produced using the same technologies and design as Blaby District Council's website and provides quick and easy access on a desktop, tablet or mobile phone.
Since its launch, Blaby District's website has consistently remained towards the top of the 'Silktide' rankings, and currently sits on 100% compliance with Melton.

~ends~
For more information please contact:
Communications@melton.gov.uk
04 October 2021
Did you find what you were looking for on this page?