Sakura Cherry Tree planted in Melton Country Park
Sakura Cherry Tree planted in Melton Country Park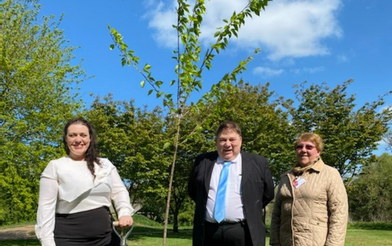 A cherry tree gifted to the Melton Borough was planted in Melton Mowbray Country Park today (Friday 29 April) as part of the Sakura cherry tree project.
The Mayor of Melton, Cllr Peter Faulkner and MP for Rutland and Melton,  Alicia Kearns were joined by Sue Herlihy from Melton in Bloom and Diana Wood from Friends of the Country Park for the tree planting.   
The Mayor said "We are thrilled that Melton Mowbray has been chosen to take part in this fabulous project and want to thank our MP Alicia Kearns and the Sakura Cherry Tree project for the colourful addition to our Park.   Melton Country Park is a perfect location for this tree and we hope people will be able to visit the park and enjoy the tree in the future."
Alicia Kearns said "It is delightful to see one of these beautiful trees planted in such a lovely setting and on a beautiful day. Cherry blossom is the national flower of Japan and I look forward to visiting again and seeing this tree grow and blossom over years to come."
The tree is one of 6,000 Japanese cherry blossom trees gifted to the UK from Japan to be planted across parks, gardens and schools. The Sakura Cherry Tree Project was part of a nationwide campaign to celebrate 150 years of strong relationship between the two countries.  
29 April 2022
Did you find what you were looking for on this page?