Solar Together is back for another round
Solar Together is back for another round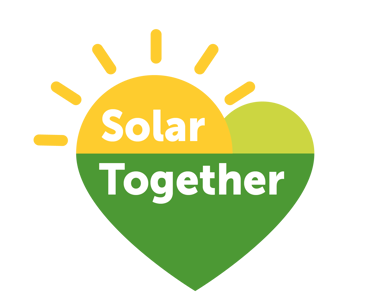 Melton Borough Council residents will boost local renewable energy generation, cut carbon emissions and save on energy bills with community led initiative.
Melton Borough Council residents are coming together to invest in renewables through a group-buying scheme for solar panels and battery storage.
Solar Together Leicestershire helps homeowners feel confident that they are paying the right price for a high-quality installation from pre-approved installers.
This innovative scheme builds on six years of highly successful Solar Together programmes run across the UK.
Melton Borough Council residents can join the group-buying scheme which offers solar panels with optional battery storage and EV charge points, as well as retrofit battery storage for residents who have already invested in solar panels and are looking to get more from the renewable energy they generate as well as increase their independence from the grid.
It is free to register and there is no obligation to go ahead with an installation. Melton Borough Council are working with neighbouring districts and boroughs as part of the Green Living Leicestershire Partnership and independent experts iChoosr, to make the transition to clean energy as cost effective and hassle-free as possible.
Councillor Margaret Glancy, Melton Borough Council Portfolio Holder for Governance, Environment and Regulatory Services said: "I'm so pleased we have been able to work with our partners across Leicestershire to provide our residents with the opportunity to take a step forward in renewable energy and work towards our goal of reducing carbon emissions across the borough.
"In Melton a total of 771 private sector homes and 306 council owned homes have received energy efficiency measures since 2019. This project is another small step in achieving the Council's ambition for the borough to be net zero by 2050.
"If residents feel this scheme is of interest to them, they can sign up to the scheme to install solar panels, battery storage or EV charge points, residents can lower their carbon emissions and potentially their energy bills. I encourage anyone interested to register their interest on the Solar Together website."
To register for the Solar Together scheme, visit their website at: https://solartogether.co.uk/melton/home 
How does it work?
Householders can register online to become part of the group for free and without obligation.
Pre-approved UK solar PV suppliers participate in a reverse auction. They are able to offer competitive pricing as the volume and geographic concentration makes it possible for them to realise greater efficiencies, which they pass on with lower prices for installations.
After the auction, registered households will be emailed a personal recommendation which is specific to the details they submitted in their registration.
If they choose to accept their recommendation, the specifics of their installation will be confirmed with a technical survey after which a date can be set for the installation of their solar PV system.
Telephone and email helpdesks are on-hand throughout the whole process which, together with information sessions, will allow households to make an informed decision in a safe and hassle-free environment.
Marie-Louise Abretti, iChoosr UK Solar Manager added "With energy prices continuing to increase, residents of Leicestershire are looking for opportunities to reduce their carbon emissions, save on energy bills and increase their independence from the grid.  The Solar Together group-buying scheme offers a straightforward way to make an informed decision and to access a competitive offer from a trusted, vetted provider."
iChoosr has a strong track record of delivering group purchase schemes for local authorities. It has worked with 210 UK local authorities on its collective energy switching schemes. Furthermore, in 2018 UK councils, in collaboration with iChoosr, initiated their collective purchase schemes for solar PV systems. iChoosr's schemes have been delivered in partnership with local authorities in five countries. Over 95 schemes led to 148,000 residents installing solar PV systems.
~ends~
13 June 2023
Did you find what you were looking for on this page?