UKSPF Community grants available for community projects
£135,000 capital grant funding available for community projects across Melton Borough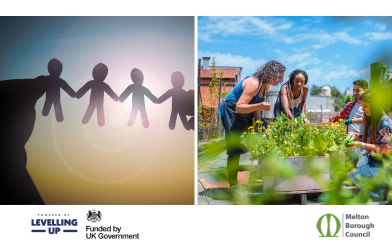 Melton Borough Council are encouraging local organisations to apply for a share of £135,000 for capital community projects across the borough to improve community infrastructure and support.  
Funded through the Rural England Prosperity Fund and UK Shared Prosperity Fund, grants of up to £20,000 are available to support eligible groups to deliver projects across the borough that will have positive community benefits.  
The Council is focussing on the following priorities through this grant fund:  
Capital grant funding for creation and improvements to local rural green spaces

 

Capital grant funding for impactful volunteering and social action projects

 
The council have provided more information about the types of projects that are likely to be considered for this fund on their website, but eligible projects include those that create or enhance community gardens or green spaces and those that enable the development, restoration or refurbishment of local natural, cultural and heritage assets, whilst supporting volunteering opportunities and community engagement.   
If you have a great idea for a community project but are not sure if it is eligible, please contact the team at communitygrants@melton.gov.uk to discuss further. 
This fund is only available for capital projects, and as such it cannot be used for revenue costs such as running costs, wages, debt repayments and personal items. 
To find out more including eligibility criteria, guidance documents and to complete an application form, please visit our website www.melton.gov.uk/community-grants 
The scheme will open 9 October 2023 for applications and will close at 11:59pm on 6 November 2023. 
-ends -
For more information please contact: 
Email: communitygrants@melton.gov.uk 
Notes to editors:
For more information on the Government's UK Shared Prosperity Fund visit: www.gov.uk/government/publications/uk-shared-prosperity-fund-prospectus 
09 October 2023
Did you find what you were looking for on this page?