Business grant scheme supporting local economy
Council launches £300,000 grant scheme to support growth in the local economy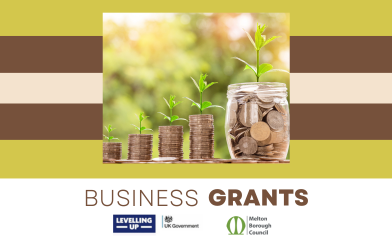 Melton Borough Council has developed the Discretionary Business Grants Fund which will see £300,000 worth of grants go to supporting business start-ups, business growth, the high street and retail sector and developing the tourism economy. 
The new growth fund is utilising money that was secured through the UK Shared Prosperity Fund (UKSPF) and Rural England Prosperity Fund (REPF). Through the scheme local qualifying businesses will be able to apply for capital grants of up to £15,000.  
The fund has been designed to support businesses with projects that meet certain criteria, details of which are available on the council's website. It provides opportunities for businesses in the area to access the financial support needed to help grow their business and create job opportunities for local residents. Applications are welcomed from all sectors across the borough. 
Applications have opened for submission from local businesses across the borough and will close on Wednesday 1st November 2023 at 11:59pm. To apply for funding visit the Council's Business Support Hub at www.melton.gov.uk/businessgrants
Further information on the eligibility criteria, the types of projects that can be funded and timescales for the application stages are also available on the council's Business Support Hub website. 
~ends~ 
For more information please contact: 
Email: businessgrant@melton.gov.uk 
Notes to editors: 
For more information visit- www.gov.uk/government/publications/uk-shared-prosperity-fund-prospectus 
05 October 2023
Did you find what you were looking for on this page?